Laura Pennybaker LDO, Licensed Optician
Laura has been apart of the Aurora Eye Care team since October 2016. With over 30 years of experience, Laura found her niche in optical in 1983. Known for her funny sense of humor and smile, she has a unique talent for choosing just the right frame to complete your look. Whether you want a conservative flavor, a corporate appearance that lends presence, or a fun and hip style, Laura will assist you in finding the perfect pair. Furthermore, Laura is an expert in the latest lens technology and is proficient in offering many lens designs to help find a solution that works best with your frame. Laura is a Solon High School graduate and attended Youngstown State University.
---
Lesli Miller, Billing Coordinator
With over 15 years experience in the medical field, Aurora Eye Care is fortunate to have Lesli on staff. Lesli has worked in the chiropractic field as well served as an orthodontist assistant. Coming most recently from University Hospital to Aurora Eye Care, Lesli has been with the practice since 2014. While at Aurora Eye Care, Lesli has taken several continuing education classes in optics and continues to grow with the practice. Lesli comes from a family of three sisters and two brothers along with a wonderful supporting mother. She is married with one daughter, one stepdaughter, one stepson, and one grandson! In her free time, Lesli attends First Baptist Church and enjoys swimming, boating, and gardening. Lesli graduated from Maplewood Vocational School in Small Business Management.

---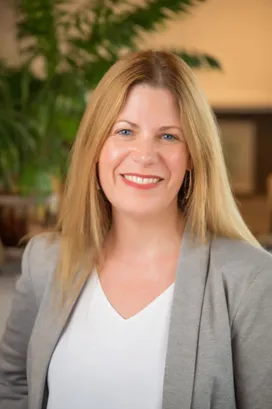 Lisa Blunden, Practice Manager

Lisa has been a part of the Aurora Eye Care team since 2018. Originating from Bournemouth, England, Lisa trained in Travel and Tourism and started her career at a Travel Agency where she learned valuable customer service skills working directly with clients. Prior to returning to the workforce, Lisa enjoyed being a full time mom, keeping busy with school PTO and various volunteering roles. Lisa, her husband Lee, and their two daughters relocated to Aurora, from England in 2013.
Lisa is thrilled to join the team at Aurora Eye Care and continuing the great customer service that our patients expect from the practice. Lisa enjoys traveling, home improvement projects and time with her husband, girls and Pippa, their Cavalier King Charles spaniel.
---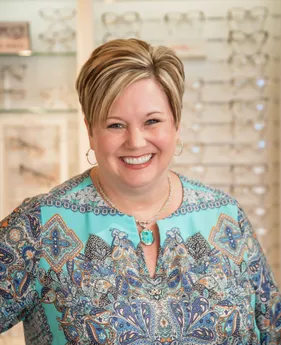 Darcia Smith CPO, Optometric Technician
Darcia joins Aurora Eye Care with a background in Human Resources Management in the health care industry. She was a full-time mom to her two daughters before returning to the workforce and joined Aurora Eye Care in 2019. Darcia has enjoyed meeting our patients from Aurora and the surrounding communities and in her free time enjoys cooking, reading and spending time with her husband. She has one daughter attending the University of Cincinnati and the other attending Kent State University. Before moving to Ohio, Darcia and her family resided in Denver, North Carolina.
---
Barb Dienes, Receptionist
Barb has served as a part-time Receptionist at Aurora Eye Care since 2014. Previously, she worked in the health care profession at Passport Health as an Executive Assistant where she planned executive travel and inoculation for companies and their associates traveling out of the country. Barb is passionate about customer service which was perfected in her role as an Executive Assistant to the General Manager of Operation and Merchandising Managers at Saks Fifth Avenue in Beachwood for 23 years. Barb enjoys being with patients and their families while providing them with outstanding care. On a personal note, Barb has three adult children and seven grandchildren, keeping her busy with free babysitting and transportation services for all of their activities!

Sue Loddo LDO, Licensed Optician

As one of the oldest and newest to the AEC team, Sue started her career in eyecare during the 1980's. Sue received her license as a dispensing optician in 1991. Over the years she has taken pleasure in helping patients with all aspects of their eyecare needs from lens design and frame styling to contact lenses.
Now enjoying her semi retirement with a part time schedule, she enjoys cheering on her grandkids at their various sporting events and her vacations golfing in sunnier climates with her brothers and the sibling rivalry fun they have!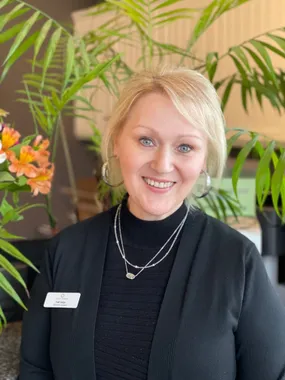 Patti Vargo, Optometric Assistant

Patti comes to us with over 30 years of customer service and administrative experience. She has worn many hats throughout her professional career with roles varying from sales and marketing to accounting and human resources. After many years in human resources she embraced the opportunity to hit the reset button and seek out a role with a healthier work-life balance. As a patient at AEC, the personalized attention and care she received from Dr. Smargiasso and staff really resonated with her and she eagerly jumped at the opportunity to join us and we welcomed Patti to the team in July 2021.

In her free time, Patti volunteers at a local food pantry and she and her husband Todd, are active members of their church. She's a Hallmark Christmas movie junkie, loves Jane Austen novels and enjoys spending time with her husband, step daughter Katelyn, and their two lovable, but spoiled rescue pups!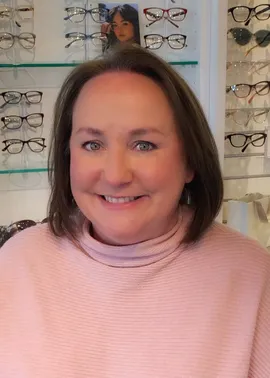 Shannon Bischoff, Optometic Assistant
Shannon is the newest member of the Aurora Eye Care family. Before joining our team, she enjoyed a 20 year career working in public education as an Administrative Assistant. She really enjoys her new AEC coworkers and looks forward to being part of this fun team.
As a new empty nester, she moved to Ohio with her husband and two rescue pit bulls in November 2021. The two things she is most proud of is her daughter Allison who is a graduate student at University of Michigan and her son Sean, who is a sophomore at Ohio State University. In her free time she enjoys reading, cooking and travelling.